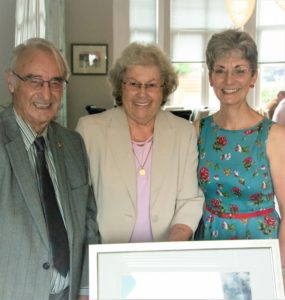 The Trust recently held a lunch and presentation at Henry's Bay House Restaurant. Founder History Trust Members, Eric and Christine Wilson, are stepping down in their respective roles as Oral History Facilitator and Honorary Secretary but will stay on as executive committee members.
Trust Chair, Elaine Barton, thanked Eric and Christine for their relentless hard work over the years and their contribution to ensuring that much of our local history is preserved for future generations. Since 1998 the Trust has thirty-three publications to its credit and has sold almost thirty-nine thousand books as well as an ever increasing audio archive.
Eric and Christine expressed their delight and thanks to the Committee they were presented with a painting of Corsewall Lighthouse by local artist Jim Mclean. Thanks also to John and Jane Henry and the staff of the Bay House for a delicious meal.
Pictured from left to right are Eric Wilson, Christine Wilson and Elaine Barton.